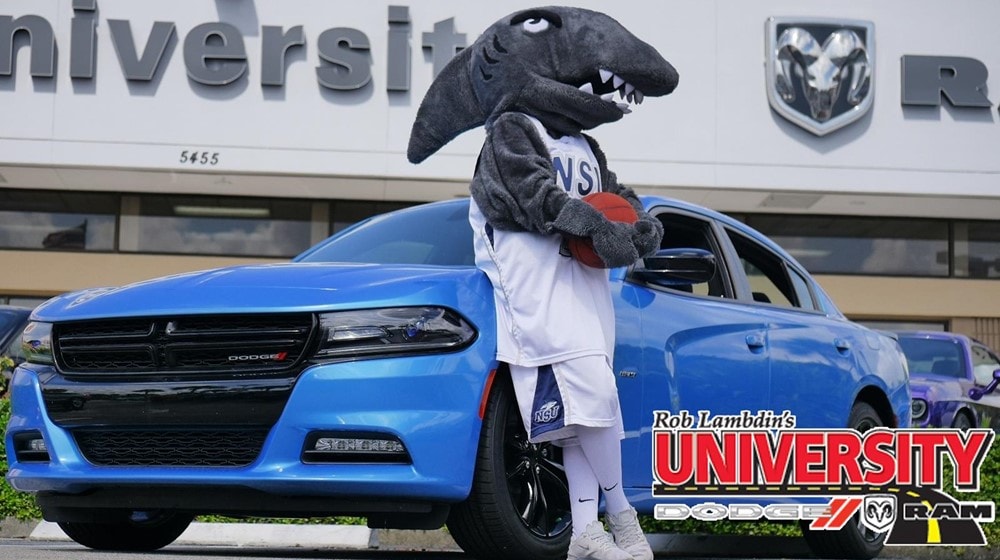 Rob Lambdin's University Dodge Ram Partners with NSU Athletics
FORT LAUDERDALE, Fla. -- Nova Southeastern University Athletics is proud to announce a new partnership with Rob Lambdin's University Dodge Ram.
 
The partnership secures Rob Lambdin's University Dodge Ram as the title sponsor for the Annual Athletics Honors Banquet and bearer of halftime promotion naming rights during soccer and basketball games. The dealership will receive significant exposure through on-campus activation, signage in the NSU arena, NSU Baseball Complex, and NSU Soccer Complex, as well as, visibility across numerous NSU Athletics digital, radio and social media platforms.
 
"As a local business, we are happy to support the NSU Athletic Department. Along with NSU, we have deep roots within the community and we look forward to being a part of the NSU family, supporting the Sharks and the entire NSU community," said Jorge Haimovich, General Manager of University Dodge Ram.
 
The partnership, effective at the start of the 2016-17 athletic season, will also feature a number of on-site sponsor nights at select athletic events, allowing for the showcase of a vehicle and information to students, friends and families.
 
"It is a tremendous opportunity for us to team up with University Dodge Ram. As an established neighbor, they truly understand the importance of supporting our value of local community engagement," said Michael Mominey, NSU Director of Athletics. "We are excited to begin this relationship and look forward to the opportunities ahead with this partnership."
National Incentives
Automobility Disability Assistance
Bringing you more ways to get you where you want to be
Designed to help customers with permanent disabilities enter, exit and/or operate a new vehicle, Chrysler's Automobility Program can help you do the things you love to do in life. Our goal is to assist in lessening the burden of the financial cost of modifying your vehicle.
Chrysler Group will give you a cash reimbursement, of up to $1000+, to reduce the cost of installing adaptive driver or passenger equipment on your new vehicle.
For more information visit http://www.chryslerautomobility.com